---
Tungsten Copper Rivet Electrical Contact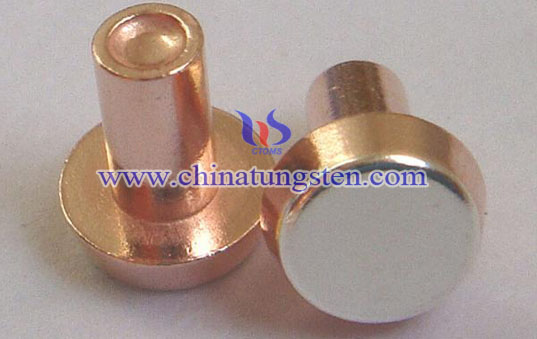 Introduction
Tungsten copper rivet electrical contact is an ideal for low volume applications, double-headed contacts and small diameter contacts that cannot be economically made as composites. Rivet electrical contact is a part with a head larger than its body or shank. It is designed to be clinched onto another part of an assembly.
Chinatungten Online is one of the world's leading suppliers of tungsten copper rivet electrical contact and contact assemblies. We have electrical contact manufacturing solutions for every application, producing composite rivets, solid rivets, laminated welding buttons, powder metal contacts, and other designs to meet all electrical contact requirements. Electrical contact materials include pure tungsten, tungsten copper, tungsten silver and other precious metals. Our contacts are used in a broad range of power applications, from millivolts to kilovolts.
Over the years, we have continually enhanced our expertise, production efficiency and global footprint to ensure we're the electrical contacts supplier of choice to companies in every market. Our manufacturing systems produce superior contacts that perform reliably in demanding electrical switching, control and connector applications. Chinatungten Online is so committed to providing the best value to our customers that when we weren't satisfied with the output of our production equipment, we designed our own.
We appreciate the opportunity to work with you regarding the tungsten copper rivet electrical contact requirements for your specific application. Size, material, attachment, and even the mechanics of the finished electrical switch or device are all important factors in the design. We also regularly work with customers to analyze contact composition and assembly to identify the root cause of contact failures.
Enquiry & Order