What Is Tungsten Copper Contact
What Is Tungsten Copper Contact
Tungsten copper contacts are subjected to extreme mechanical and thermal stresses during operation. For fractions of a second, temperatures rise to several thousand degrees as a result of the arcing. Our tungsten copper alloy electrode materials are used because of tungsten copper alloy electrode unique physical properties. Tungsten copper alloy electrode material offered by us is high quality. We can provide all kinds of tungsten copper electrode as your requirements. Tungsten copper electrode is easy to be machined.
Tungsten Copper Contact Advantages
Pure tungsten and copper, tungsten copper electrode uniform material, low content of gas and impurity, very high burn-off resistance, excellent thermal and electrical conductivity, all necessary joining and machining processes.
1, High arc resistance combined with good electrical conductivity
2, High thermal conductivity
3, low thermal expansion
4, Special tungsten copper alloy products are available at customers' requests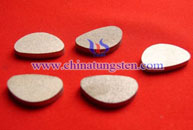 Tungsten Copper Contact Applications
1, Arcing contacts and vacuum contacts in high and medium voltage breakers or vacuum interrupters
2, Electrodes in electric spark erosion cutting machines
3, Heat sinks as passive cooling elements of electronic devices
Tungsten Copper Contact Properties
1, Material: 50-90% Tungsten / 50-10% Copper
2, Density: 11.80~ 16.80 g/cm3
3, Conductivity (IACS %): 54~27
4, Resistivity: 3.0~6.5 µΩcm
5, Techniques: Copper unfiltered Tungsten block in vacuum high-temperature stove.
Any feedback or inquiry of Tungsten Copper Alloy Products please feel free to contact us:
Email: sales@chinatungsten.com
Tel.: +86 592 512 9696 ; +86 592 512 9595
Fax.: +86 592 512 9797