---
Tungsten Copper Welding Electrode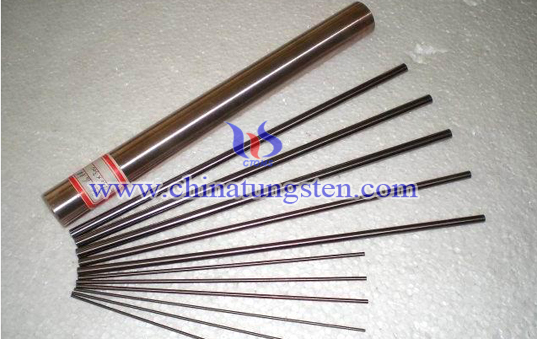 Introduction
Tungsten copper welding electrode general specification is D1x50, D2x50, D3x50 and D4x50. Composition of electrode is 70W30Cu, the density is 13.85, hardness is 85, conductivity is 42, this material is more suitable for welding electrode than other material. Especially suitable for capacitor discharge precision molds repair welding, resistance welding and TIG integrated solutions cold welding.
Properties
Tungsten copper electrode welding is combined by high-purity tungsten powder and good ductility with high conductivity copper with isocratic pressing, high temperature sintering, melting refined craft made of composite metal material. Good electrical conductivity, thermal expansion of small, does not soften under high temperature, with high strength, high density, and high hardness. Tungsten copper alloy welding electrode selection of high hardness, high density and high performance with tungsten has a thermal conductivity properties of copper, is the best choice for welding electrodes.
Application
Tungsten copper precision welding electrode is mainly used in cold punching, bending, extrusion, die-casting mold, high-speed steel cutting tools, fixtures, vulnerable parts of mechanical parts processing repair, measuring tools, mechanical parts wear were trace repair. Casting trachoma, stomata repair. Complex cavity, narrow grooves, blind holes, corners and repair of carbide tooling, mold industry wide in scope, casting parts used in automobile, industrial machinery and machine tool industry, aviation and shipbuilding, petroleum chemical, coal, construction machinery and many other industries for product repair.
Enquiry & Order