---
Tungstn Copper Alloy Electrode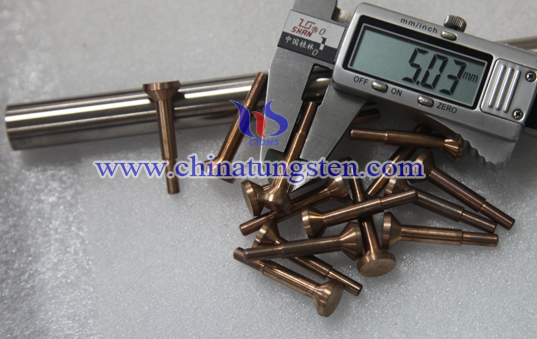 Tungsten copper alloy electrode is a good use of high-purity tungsten metal powder and high purity characteristics of the plasticity of copper powder, the advantages of high conductivity, the static pressure molding, high temperature sintering, melting refined copper from the process of composite materials.
Tungsten copper rotary electrode has high physical and mechanical properties to answer the PCD tools disk erosion need. We put lots of effort research and optimize our process to develop quality product for this application.
Tungsten copper nut electrode welds bolt and nut together and achieves higher embossing hardness and higher welding strength, which has been widely used in machinery automation and aerospace fields.
Tungsten copper welding wheel is also called rolling welding wheel, which is a kind of electrode wheel mounted on seam welder. Due to its good wear resistance, electrical and thermal conductivity can be widely used in steel, stainless steel, copper, aluminum and other materials welding.
Tungsten copper handle electrode uses a unique technology to produce vacuum diffusion welding, surface welding seamless, the overall effect is good, mainly used in EDM electrodes increases efficiency.
In the low-voltage transmission and distribution systems over-voltage protection, B-class protection focused on building main distribution cabinets, lightning protection device provided in the main distribution cabinet among its main function is 90% of the energy can be tolerated after the first stroke.
Tungsten copper projection welding electrode is mainly used in welding low carbon and low alloy steel stampings. There are many different types of projection welding, projection welding except board, there are nuts, bolts Parts of projection welding, wire cross projection welding, projection welding pipe and plate T type projection welding and so on.
Tungsten copper alloy has a combination of tungsten and copper, high temperature resistance, arc ablation, high hardness, high melting point, high strength, high specific gravity, high conductivity, high thermal conductivity, easy cutting, anti-adhesion, and has a transpiration cooling characteristics.
Tungsten copper iron composite electrode also called tungsten copper petiole electrode. One end of the material is tungsten copper alloy, the other end is a relatively high tensile strength steel.
Copper tungsten thread tapping use for ED due to it unmatched wear resistance, together with very well in sharp corner and machined without burr issues associated with copper.
Tungsten copper spot welding electrode plays an important role in ensuring the quality of spot welding, which includes conductivity, transfer the pressure and rapidly scatter the heat in the welding area.
Copper tungsten PCD disk electrode is made by copper tungsten (WCu) material. Most of customer choice electrode made by tungsten composition 70%, 75% and 80% by weight depends on PCD material.
Tungsten copper spot welding needle has many advantages, such as small in volume, excellent electrical and thermal conductivity, high welding stability, good anti-adhesion and no bombing fire, etc., in the micro-battery spot welding field has broad application prospects.
Tungsten copper SAW (Submerged arc welding) contact tips are the welding comsumables, which usually located at the end of welding equipment and plays an important role in welding wire conducting.
The trajectory of tungsten copper sealing weld electrode is seam-like, so it also known as seam welding electrode or parallel sealing weld electrode, which is one kind of resistance welding electrode.
Tungsten copper welding electrode general specification is D1x50, D2x50, D3x50 and D4x50. Composition of electrode is 70W30Cu, the density is 13.85, hardness is 85, conductivity is 42, this material is more suitable for welding electrode than other material.
Enquiry & Order