---
Tungsten Copper Welding Wheel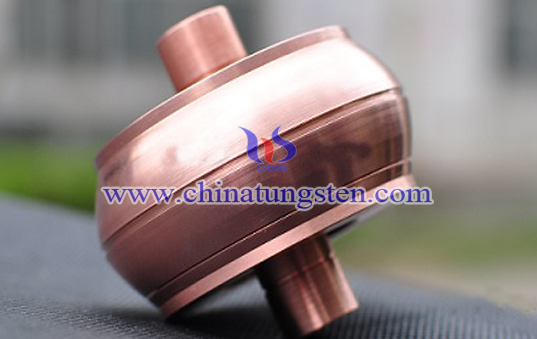 Introduction
Tungsten copper welding wheel is also called rolling welding wheel, which is a kind of electrode wheel mounted on seam welder. Due to its good wear resistance, electrical and thermal conductivity can be widely used in steel, stainless steel, copper, aluminum and other materials welding.
Principle
Seam welder is similar to spot welder, but there are some differences in the shape of elctrode. The electrode of spot welder has rod-like electrode and spark welding, but the seam welder has two upper and lower ring-like electrodes and continuous or intermittent dischargeing. Tungsten copper welding wheel is suitable for the continous welding in metal sheet joints, such as soldering iron tin cans. In the welding process, upper and lower ring-like electrodes clips the welded workpiece, the welding wheel plays a part of electrode and were released by being positive and negative current welders, welders are in contact so that the heat generated will be fused welder parts. And the rotation of the roller drives welders to form a continuous welding process.
Comparison
At present, common materials used for welding wheel mainly includes tungsten copper, beryllium copper, and cobalt chromium zirconium copper. All of three kinds materials have high hardness, excellent performance in electrical and thermal conductivity, wear and corrosion resistance and creep resistance. But there are some differences in the manufacturing process and applications among them. Beryllium copper, cobalt and chromium zirconium copper generally use vacuum casting - hot forging - solution technique - cold forging fight - the heat treatment process, while tungsten copper materials are mainly used infiltration sintering method. In applications, beryllium, cobalt and copper weld wheel is more suitable for carbon steel, wire, stainless steel wire and having a larger pressure to the top of the workpiece welding; chromium zirconium copper welding wheel is suitable for low-carbon steel, steel, wire welding; tungsten and copper is more suitable for welding with silver, copper, aluminum, stainless steel mesh, barbed wire and other materials.
Enquiry & Order