Copper Tungsten Thread Tapping Electrode
Copper Tungsten Thread Tapping Electrode
Copper tungsten thread tapping use for ED due to it unmatched wear resistance, together with very well in sharp corner and machined without burr issues associated with copper. Our copper tungsten alloy is made by PSI (press-sinter- infiltration) process which bring higher quality than the conventional PS (Mix.-press-sinter) process to virtually eliminates the alloy porosity issue.
Copper Tungsten Thread Tapping Electrode Advantage
• Maturity press- sinter- infiltration process without porosity issue.
• High electrical conductivity gets rapid cutting speed.
• Different tungsten ratio product available depends on the demanding.
Copper Tungsten Thread Tapping Electrode Size Specification (unit: mm)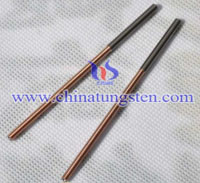 | | | | | |
| --- | --- | --- | --- | --- |
| | P(pitch) | D(outer diameter) | S(Shank length) | B(Thread length) |
| WDC0M2.5 | 0.45 | 1.55 | 35 | 15 |
| WDC0M3 | 0.50 | 2.00 | 25 | 55 |
| WDC0M4 | 0.70 | 2.80 | 25 | 55 |
| WDC0M5 | 0.80 | 3.70 | 25 | 55 |
| WDC0M6 | 1.00 | 4.50 | 25 | 55 |
| WDC0M8 | 1.25 | 6.30 | 25 | 55-75 |
| WDC0M10 | 1.50 | 8.00 | 25 | 55-75 |
| WDC0M12 | 1.75 | 9.70 | 25 | 55-75 |
| WDC0M14 | 2.00 | 11.50 | 25 | 55-75 |
| WDC0M16 | 2.00 | 13.50 | 25 | 55-75 |
| WDC0M18 | 2.50 | 15.00 | 25 | 55-75 |
| WDC0M20 | 2.50 | 17.00 | 25 | 55-75 |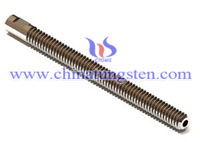 Copper Tungsten Thread Tapping Electrode Properties
| | | | | |
| --- | --- | --- | --- | --- |
| Material | Composition | Density | Electrical conductivity | Hardness |
| WD™10070 | 70W30CU | 14.2 | 44 %IACS | 88 HRB |
| WD™10075 | 75W25CU | 14.6 | 38 %IACS | 94 HRB |
Any feedback or inquiry of Tungsten Copper Alloy Products please feel free to contact us:
Email: sales@chinatungsten.com
Tel.: +86 592 512 9696 ; +86 592 512 9595
Fax.: +86 592 512 9797