Tungsten Copper Heat Sink
Chinatungsten offers special high conductivity and low thermal expansion metals and ceramic materials. All materials are available as finished components and in sheet form. Metals are available either as composites or as laminated sheets.
Cu/MoCu sheets have very high in plane conductivity provide by layers  of copper and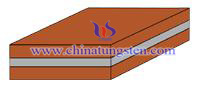 low thermal expansion provided by the inner layer  of molybdenum. These laminated sheets have the ability to spread the heat from a concentrated heat  source and then dissipate the heat through the layers. They also:
Offer an economical solution to many applications
Will not delaminate and can resist repeated 850° C cycles
Available in several standard ratios and many thicknesses for tailored TE machining
Are lower weight than WCu composite materials
Are available in larger and thinner sheet size
Utilize copper that is easily plated
Can be machined by EDM
WCu composites are made by infiltrating, under vacuum, uniform controlled porous blocks of tungsten with molten co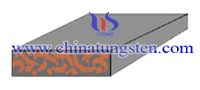 pper. This results in a material with an interconnected copper matrix that has high thermal conductivity in all axis, low thermal expansion, and good electrical conductivity, Copper content can range between 10% and 25%.
MoCu alloys are made by sintering molybdenum and copper together. This results in a tungsten copper heat sink of lower density, low CTE and excellent thermal conductivity. Other features include:
Sheets can be stamped when moly is less than 70%
Non magnetic
Relatively low density
Can be gold or nickel plated
Tungsten/Copper - Moly/Copper - Cu/Mo/Cu Heat Sink Meterials
Type

Materials

Densityg/cm3

Thermal ConductivityW/m·k

CTE, ppm/ºk20-100℃

Composite

W90Cu

16.6-17.0

180-190

5.6-6.3

W85Cu

16.2-16.6

190-200

6.3-7.0

W80Cu

15.4-15.8

200-220

7.8-8.5

W75Cu

14.8-15.2

220-240

9.5-10.2

Mo70Cu

9.6-9.8

190-200

7.8-8.4

Mo60Cu

9.5-9.7

200-220

9.0-9.6

Mo50Cu

9.3-9.5

220-250

10.1-10.7

Copper Metal Laminate

1:1:1Cu/Mo/Cu

9.27-9.47

300-310(x-y)220-230(z)

9.6-10.0

1:2:1Cu/Mo/Cu

9.48-9.68

270-280(x-y)200-210(z)

8.5-8.9

1:3:1Cu/Mo/Cu

9.6-9.8

240-250(x-y)180-190(z)

7.7-8.1

1:4:1Cu/Mo/Cu

9.7-9.9

210-220(x-y)170-180(z)

6.8-7.2

1:5:1Cu/Mo/Cu

9.74-9.94

195-200(x-y)165-170(z)

6.2-6.6

13:74:13Cu/Mo/Cu

9.78-9.98

190-200(x-y)160-170(z)

5.7-6.1

1:4:1Cu/Mo70/Cu

9.46

210-220(x-y)170-180(z)

7.2
Any feedback or inquiry of Tungsten Copper Alloy Products please feel free to contact us:
Email: sales@chinatungsten.com
Tel.: +86 592 512 9696 ; +86 592 512 9595
Fax.: +86 592 512 9797