Tungsten Copper Contact Tip
Due to large current and electric field intensity, it has high requirement of conductivity, wear resistance, which has a great effect on submerge-arc welding machine. At present, many manufacturers use copper or chromium zirconium copper contact tip, they have poor wear resistance and are easily splashing and blocking the welding nozzle. In some important occasions, the wear and frequent replacement of contact tip affect the quality of welding, reduce production efficiency.
Advantage
--High hardness, excellent wear resistance from the strengthen part of contact tip center; --High conductivity can rapidly transfer the high temperature of welding; --Compared with traditional MIG/MAG materials, tungsten copper has better competitive price; --Tungsten copper contact tip has 3 times longer than chromium zirconium copper in service life; --Reduce the idling caused by contact tip accident; --Good welding quality, concentricity and surface roughness.
Comparison
Compared with other copper alloy has low hardness and service life at 500℃, tungsten copper contact tip can keep the hardness, improve the using life and avoid the blocking, improve the efficiency.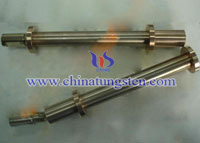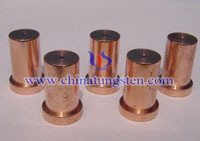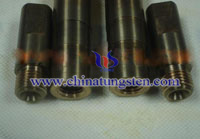 Any feedback or inquiry of Tungsten Copper Alloy Products please feel free to contact us:
Email: sales@chinatungsten.com
Tel.: +86 592 512 9696 ; +86 592 512 9595
Fax.: +86 592 512 9797