Copper Tungsten Rivet
Copper Tungsten Rivet Contact Superiority and Characteristic

1. There is no soldering flux between copper tungsten part and the copper part, reduce its own contact resistance.
2. Copper tungsten and copper fused sufficiently, the copper element fused together as a whole, ensure the copper tungsten part don't drop from the copper part in a high temperature.
3. The contact surface can use copper tungsten, silver tungsten, tungsten carbide copper, tungsten carbide silver material as per customer's request, and the composition tungsten 30%-90% by wt will be met your requirement.
4. Good anti-welding and improved anti-wear ability, short arc time, high disjunction property and powerful resist heavy current impact performance. With a better resistance to arc wear in a heavy current state.
Our "Bi- metal "copper tungsten rivet made by one step molding technology, tip material is copper tungsten, shank part use material of pure copper. Compare to the conventional rivet, our bi-metal rivet has many advantages. Since we use the direct bonding copper on the copper tungsten, its make very high strength between the conjunction area. No brazing solder at bonding interface eliminate porosity issue from poor braze scolding.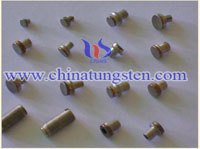 Our product can choice CuW, CuWC, AgW,AgWC as the surface contact material, which is base on the application demanding. Correspond ROSH request. Copper tungsten has very good arc wear resistance; the rivet can be used at high current condition with high performance.
Clients can avail from us a broad range of Iron copper tungsten rivets that are used in auto horns & electric appliances and are available in various specifications. We manufacture these iron copper tungsten rivets by using high quality of raw material which is soured from our reliable vendors. We do complete quality and performance measure inspection of these iron copper tungsten rivets at each level of production ensuring excellent performance, high durability, corrosion abrasion and reliability. We offer these iron copper tungsten rivets at most affordable prices to our precious customers.
We are an expert in manufacturing, supplying and export of copper tungsten rivets. Our copper tungsten rivets are manufactured with keen precision by our quality personnel. They ensure that our copper tungsten rivets conforms to the international quality standard of ISO 9001:2000 certification. Copper tungsten rivets that we manufacture are of superior quality displaying outstanding performance. Copper tungsten rivets that we supply stands on the fore-front on electric and thermal conductivity, higher bending strength, resistivity, tolerance, hardness, density and thickness. They are available at industry leading rates to our clients.
Any feedback or inquiry of Tungsten Copper Alloy Products please feel free to contact us:
Email: sales@chinatungsten.com
Tel.: +86 592 512 9696 ; +86 592 512 9595
Fax.: +86 592 512 9797

More Info: Tungsten Copper Tungsten Copper Alloy