Tungsten Copper Military Block
Introduction
Tungsten copper military block has low CTE, high soften temperature, which not only plays an important part in electrical materials, but also has been widely used in high temperature material and military armor material. The most outstanding characteristic is that copper evaporating takes away a part of heat and keep it working stable; in military field, for some missile, penetrator and liner, tungsten copper material remarkably improves armor capability.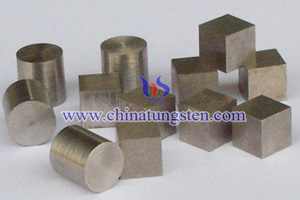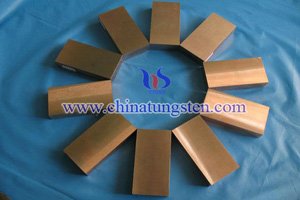 Application
1. Used as EDM electrode, is easy for cutting and has sweat cooling, anti-adhesion, which is suitable for butt welding and projection welding with high requirement of wear resistance and high temperature resistance; 2. It can be widely used in high temperature material, electrical alloy for high-voltage switch, micro-electronics material; 3. Used in vacuum electrical contact, transformer switch contact and some electric upsetting electric forging industry and its good machinability processed into a variety of shapes of the W-Cu contacts as well as a variety of infiltration, casting material; 4. It provides a good solution for the deformation in small precision electrode machining; 5. Used as high temperature components of rocket, missile with high-speed airflow ablation, such as gas vane, nozzle, throat insert, nose con and so on; 6. In the 1990s, copper tungsten material has already begun used as new electronic package and the heat sink material. And it gradually appears in CPU, large-scale integrated circuit, high-power micro-wave device, connection and radiating component.
Specification (mm)
D1×100×100

D2×100×100

D3×100×100

D4×100×100

D5×100×100

D6×100×100

D7×100×100

D8×100×100

D9×100×100

D10×100×100

D12×100×100

D15×100×100

D16×100×100

D18×100×100

D20×100×100

D22×100×100

D25×100×100

D30×100×100

D35×100×100

D40×100×100

D45×100×100

D5×100×200

D6×100×200

D8×100×200

D10×100×200

D12×100×200

D15×100×200

D20×100×200

D25×100×200

D30×100×200

The standard length and width of tungsten copper block we are able to provide is less than 300mm, and the thickness is more than 0.1mm (±0.05mm), customized sizes and tolerances are also accepted.
Any feedback or inquiry of Tungsten Copper Alloy Products please feel free to contact us:
Email: sales@chinatungsten.com
Tel.: +86 592 512 9696 ; +86 592 512 9595
Fax.: +86 592 512 9797