Tungsten Copper Heat Sink for Plate Heat Exchanger
Introduction
Tungsten copper heat sink for plate heat exchanger forms high-voltage circulating structure by vacuum welding of contact points. And the circulation structure makes the hot and cold fluid in the plate heat exchanger produce strong turbulence and achieves high heat transfer effect.
Characteristic
1. Tungsten copper heat sink for plate heat exchanger fabricated by special process, which has excellent hermeticity, moisture permeability and tear resistance; 2. Good temperature conductivity and is suitable for the area with large temperature difference and small wetness difference, save energy and long service life; 3. Tungsten copper heat sink can be high-temperature brazing or sealing bolt combination; 4. Compact structure can keep the stable operation under high temperature and high pressure.
Application
1. Refrigeration: used as a condenser and evaporator; 2. HVAC: with the use of the middle of the boiler heat exchanger, high-rise buildings, such as the middle heat exchanger; 3. Chemical industry: soda ash industry, synthetic ammonia, alcohol fermentation, resin synthesis cooling; 4. Mechanical and metallurgical industry: quenching liquid cooling, cooling oil reducer, heating or cooling aluminates mother liquor, steel-making process cooling; 5. Power industry: high-voltage transformer oil cooling, generator bearing oil cooling. In addition, it also can be used in paper making, textile, food, medicine. ships, seawater desalination and geothermal utilization.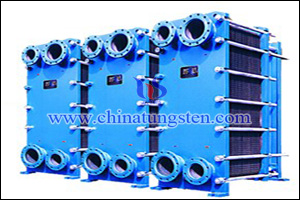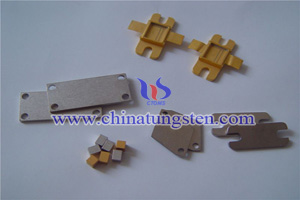 Any feedback or inquiry of Tungsten Copper Alloy Products please feel free to contact us:
Email: sales@chinatungsten.com
Tel.: +86 592 512 9696 ; +86 592 512 9595
Fax.: +86 592 512 9797