Tungsten Copper for High Voltage Switch
Tungsten Copper for High Voltage Switch
Chinatungsten Online is the forerunner in manufacturing high voltage contacts and arc tolerant electrical contact materials. Tungsten copper materials are hard and durable, with good conductivity and particularly resistant to the erosive damage of contacting arcing.
Tungsten Copper for High Voltage Switch Description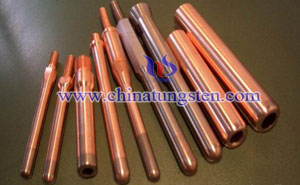 Tungsten copper for high voltage switch 128kV SF6 circuit breakers WCu / CuCr medium, and high-voltage vacuum load switch (12kV 40.5KV 1000A), surge arresters are widely used, high-voltage vacuum switches, small size, easy to maintain, using a wide range of energy in the wet, the use of flammable and corrosive environments. The main performance requirements arc erosion resistant, anti-welding, cut-off current, gas-less, low thermal electron emission capability. In addition to conventional macroeconomic performance requirements, but also requires the porosity, microstructure properties, it should take a special process, the need to vacuum degassing, vacuum infiltration and other complex processes.
Tungsten Copper for High Voltage Switch Application
Tungsten copper for high voltage switch applications bring a diverse set of challenges in design and wear of electrical contacts. Some of these high voltage switches are operated in oil, others in air, others in a vacuum and still others in varying gases to deal with the unique requirements of high voltage applications. Some of the problems encountered will be high wear, arcing and sticking. In this section you'll find a large number of China Tungsten Online manufactured materials perfectly suited to meet these challenges.
Our contacts with Cu/W insert in the different compositions are applied in gas switches.
The devices in which our contacts are used are for HV primary distribution.
The nominal operating voltages are from 70 to 220K.
Tungsten Copper for High Voltage Switch Main Performance
| | | | | | | | | |
| --- | --- | --- | --- | --- | --- | --- | --- | --- |
| Grade | Copper | Others | Tungsten | Density | Resistance | Conductivity | Hardness(HB) | Flexural strength |
| CuW50 | 50±2 | 0.5 | Rest | 11.85 | 3.2 | 54 | 1128 | / |
| CuW55 | 45±2 | 0.5 | Rest | 12.30 | 3.5 | 49 | 1226 | / |
| CuW60 | 40±2 | 0.5 | Rest | 12.75 | 3.7 | 47 | 1373 | / |
| CuW65 | 35±2 | 0.5 | Rest | 13.30 | 3.9 | 44 | 1520 | / |
| CuW70 | 30±2 | 0.5 | Rest | 13.80 | 4.1 | 42 | 1716 | 790 |
| CuW75 | 25±2 | 0.5 | Rest | 14.50 | 4.5 | 38 | 1912 | 885 |
| CuW80 | 20±2 | 0.5 | Rest | 15.15 | 5.0 | 34 | 2158 | 980 |
| CuW85 | 15±2 | 0.5 | Rest | 15.90 | 5.7 | 30 | 2354 | 1080 |
| CuW90 | 10±2 | 0.5 | Rest | 17.00 | 6.5 | 27 | 2550 | 1160 |
Any feedback or inquiry of Tungsten Copper Alloy Products please feel free to contact us:
Email: sales@chinatungsten.com
Tel.: +86 592 512 9696 ; +86 592 512 9595
Fax.: +86 592 512 9797