Tungsten Copper Plate Properties
Tungsten copper plate combines the advantages of tungsten and copper, which with high melting point of tungsten (tungsten melting point of 3410 ℃, copper melting point 1080 ℃), high density (tungsten density of 19.25g / cm, copper density of 8.92 / cm3) ; excellent thermal conductivity properties of copper, tungsten copper alloy (composition generally ranges WCu7 ~ WCu50) uniform microstructure, high temperature, high strength, resistance to arc erosion, high density; moderate conductivity, thermal conductivity, high-temperature materials are widely used in military , high pressure switch with electrical alloy, EDM electrode, microelectronic materials, parts and components as widely used in aerospace, aviation, electronics, electricity, metallurgy, machinery, sports equipment and other industries.
Properties

Density
g/cm

CET
10-6/℃

Thermal Conductivity
w/(m·k)

Heat Capacity
J/(kg·℃)

Elastic Modulus
GPa

Poisson Density

Melting Point ℃

Strength
MPa

Tungsten

19. 25

4. 5

174

136

411

0. 28

3410

550

Copper

8. 92

16. 6

403

385

145

0. 34

1083

120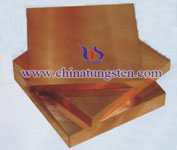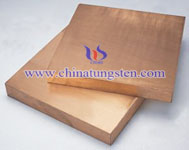 Military High Temperature Materials
Tungsten copper alloy sheet is used as missiles in aerospace, the rocket engine nozzle, gas rudder, air rudder, the nose, the main requirement is to require high temperature (3000K ~ 5000K), high temperature air erosion capacity, the main use of copper at high temperatures sweating under refrigeration volatile form of (copper melting point of 1083 ℃), reducing the surface temperature of tungsten copper, ensure that the use in extreme conditions at high temperatures.
| | | | | | | | | |
| --- | --- | --- | --- | --- | --- | --- | --- | --- |
| Grade | Cu | W | others | Density (20 ℃) | Conductivity | Melting temperature | Flexural strength | Hardness |
| CuW70 | 28-32 | Rest | < 0.5 | 13.8-14 g/cm3 | ≥ 42%IACS | ≥ 700℃ | ≥ 667 Mpa | ≥ 184 |
High-temperature tungsten copper properties (temperature of 800 ℃)
Grade
Copper
Tungsten skeleton
relative density
Density
g/cm
Relative
Dnsity
Tensile Srength
MPa
Fracture Toughness
MPa
  /
WCu10
8~12%
77~82%
16.5~17.5
≥97
≥300
≥150
15~18
WCu7
6~9%
82~86%
17~18
≥97
≥300
≥150
13~15
Tungsten Copper Plate Performance
- Mature pressing - sintering - infiltration process control, product no holes inside
- High conductivity and electrical processing speed
- Plastic, easy processing
Any feedback or inquiry of Tungsten Copper Alloy Products please feel free to contact us:
Email: sales@chinatungsten.com
Tel.: +86 592 512 9696 ; +86 592 512 9595
Fax.: +86 592 512 9797