Tungsten Copper Polished Rod
Introduction
Theoretically, tungsten is the best metal electrode material, it has high hardness, high density and high strength, the melting point reaches 3400℃ so that tungsten electrode has low wastage of electrode. However, there are two unavoidable difficulties of pure tungsten: 1. Hard to machining because the high hardness; 2. Cost too much. Therefore, tungsten copper takes advantage of the good properties of tungsten (W) and copper (Cu), which is an ideal electrode material.
Characteristic
Compared with common blank rod, it has better performance in roughness and surface quality. And common copper electrode has large consumption, low precision and efficiency when processing tungsten carbide, high carbon steel, hardened tool steel, while tungsten copper has greatly improved the efficiency and accuracy. Tungsten copper not only has good electrical conductivity, high soften temperature, wear and corrosion resistance, long service life and low frequency of electrode correction, but also save the production costs based on improving efficiency.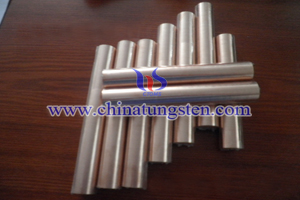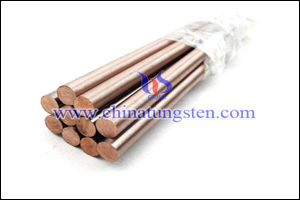 Application
The applications of tungsten copper polished rod are diverse include electrode for resistance welding, electrical discharge machining (EDM), high pressure discharge tube, even some military fields (instant high temperature material for piercing, missile insert and rocket ignitor).
Specifications (mm)
D2×200

D3×200

D4×200

D5×200

D6×200

D7×200

D8×200

D9×200

D10×200

D12×200

D14×200

D15×200

D16×200

D18×200

D20×200

D21×200

D22×200

D25×200

D30×200

D35×200

D40×200

D45×200

D50×200

D60×200

The standard length of tungsten copper rod we are able to provide is less than 300(0,+5)mm, and the diameter is Ø1±0.5mm, customized sizes and tolerances are also accepted.
Any feedback or inquiry of Tungsten Copper Alloy Products please feel free to contact us:
Email: sales@chinatungsten.com
Tel.: +86 592 512 9696 ; +86 592 512 9595
Fax.: +86 592 512 9797