Tungsten Copper Contact for High-voltage Breaker
Introduction
Tungsten copper contact for high-voltage breaker is also called as high-voltage switch, which not only plays an important role in cutting or closing high-voltage circuit in the no-load current and load current, but also in protecting relay when short circuit.
Principle
In the switch load closing, in order to shorten the arcing time in the process of moving contact closing and ensure the reliable contact, the moving contact must be greatly pressured. So it will appear a large impact during contacting and lead to contact bounce. In the on-load closing, the contact bounce is the contact between the arc, the contact surface temperature rose sharply. So the breaker life shortened by the welding of contact. There is an experiment shows the impact momentum depends on contact speed and quality.
Type
According to different arc medium, tungsten copper high voltage switch contacts can be divided into oil circuit breaker contacts, air circuit breaker contacts, vacuum circuit breaker contacts, SF6 circuit breaker contacts, solid gas circuit breaker contacts, magnetic blow circuit breaker contacts. 1. Oil circuit breaker contact: Use transformer oil for arc blowing medium, divided into two types of more oil and less oil; 2. SF6 circuit breaker contact: Use inert gas sulfur hexafluoride to blow arc and has excellent insulation capability; 3. Vacuum circuit breaker contact: Contact sealed in high vacuum interrupter, use the good insulation of vacuum to extinguish arc; 4. Air circuit breaker contact: Use high-speed compressed airflow for extinguishing arc; 5. Solid gas circuit breaker contact: Use the gas by the decomposition under high temperature to extinguish arc; 6. Magnetic blow circuit breaker contact: Use the electromagnetic force by large current to draw into magnetic quenching chamber.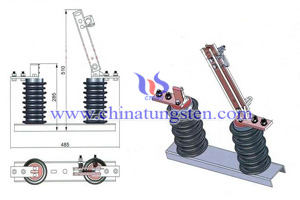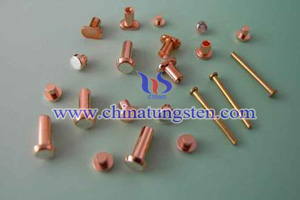 Any feedback or inquiry of Tungsten Copper Alloy Products please feel free to contact us:
Email: sales@chinatungsten.com
Tel.: +86 592 512 9696 ; +86 592 512 9595
Fax.: +86 592 512 9797

More Info: Tungsten Copper Tungsten Copper Alloy