Tungsten Copper Rod
What is tungsten copper rod?
Tungsten copper rod is a combination of tungsten and copper.
The manufacturing process is as follows: press the refractory metal, sinter the pressed compact at a high temperature, and infiltrate it with copper. All this is done under very closely controlled conditions. The result is a relatively hard material with superior arc and wear resistance, high physical Properties: at elevated temperatures, and good electrical and thermal conductivity.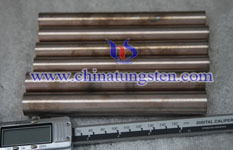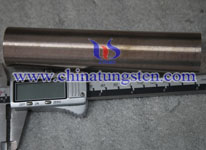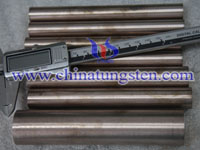 We can provide tungsten copper rod:
Diameter≥0.9mm; Length≤300mm;
Tungsten content: 
55%-90%W tungsten copper rod is available.
All can be produced as the requirements of customers, and you canuse our tungsten copper rods machining to your tagart dimension.
Composition:80W20Cu; Φ7.85mm×200mm
Copper Tungsten Rod Main Grades and Properties
| | | | | | | | | |
| --- | --- | --- | --- | --- | --- | --- | --- | --- |
| RWM B | Composition% | Hardness | Electrical Conductivity | UTS PSI | CBS PSI | Density g/cm3 | CTE | Thermal Conductivity |
| - | 45 Cu 55 W | 79B | 55 %ACS | 63000 | 110000 | 12.6 | 11.8 | 2.4 W/CM °c |
| - | 32 Cu 68 W | 88B | 52 %ACS | 75000 | 130000 | 13.93 | 10.9 | 2.1 W/CM °c |
| Class 10 | 30 Cu 70 W | 90B | 50 %ACS | 85000 | 140000 | 14.18 | 10.77 | 2.01 W/CM °c |
| Class 11 | 25 Cu 75 W | 94B | 48 %ACS | 90000 | 150000 | 14.7 | 10.22 | 1.89 W/CM °c |
| | 22 Cu 78 W | 96B | 46 %ACS | 94000 | 160000 | 15.12 | 9.3 | 1.84 W/CM °c |
| Class 12 | 20 Cu 80 W | 98B | 44 %ACS | 96000 | 170000 | 15.58 | 9.2 | 1.82 W/CM °c |
| - | 15 Cu 85 W | 102B | 36 %ACS | 75000 | 170000 | 16.19 | 7.97 | 1.75 W/CM °c |
| - | 10 Cu 90 W | 106B | 28 %ACS | 70000 | 150000 | 17.05 | 6.49 | 1.47 W/CM °c |
Any feedback or inquiry of Tungsten Copper Alloy Products please feel free to contact us:
Email: sales@chinatungsten.com
Tel.: +86 592 512 9696 ; +86 592 512 9595
Fax.: +86 592 512 9797